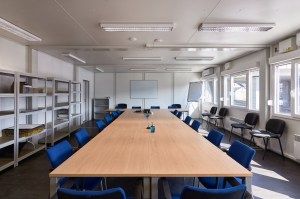 | | | |
| --- | --- | --- |
| Name of project |   | Modular building with facilities and a construction area |
| Region |   | Prague |
| Date of implementation |   | April 2021 |
| Customer sector |   | Construction industry |
| Purpose of use |   | Establishment of a construction site for the construction of an administrative    complex |
| Equipment |   | Office and sanitary modules with equipment |
| Type of project |   | rental |
| Number of modules |   | 29 |
| Area (m2) |   | 435 |
The extent and complexity of this project makes it a very interesting and important ALGECO project. The highest emphasis was placed on quality and design in this project, as well as on the range of services provided in relation to the equipment of the building and the security of the surrounding area and operation. The modular ALGECO building provides facilities in the form of office space, meeting rooms, sanitary facilities with a kitchen and a training centre. The interior of the building is partially divided by glass walls, and the whole building is air conditioned. In our 360° SERVICE, we supplied office furniture, kitchen equipment and IT equipment for presentations and training. The fenced complex can only be entered through a gatehouse with a barrier and turnstiles. The whole solution was completely tailored to the customer's needs. As part of After Sales service, we additionally upgraded the gatehouse with an access system using a face scan, a printer for personal identification tags and mesh banners bearing the company's logo. With regard to the customer's clearly set marketing requirements, the module paint and the fencing were in the company's colours.