Premium line
Highest level of design, comfort and safety
PROGRESS: A high-quality, premium rental solution for long-term use
Do you need new facilities in a short period of time that would meet the highest design, comfort and safety standards? ALGECO is your competent partner with the perfect solution: PROGRESS means high-quality temporary architecture. This premium rental system from ALGECO that can be used for up to five years combines the advantages of a modular building with architectural elegance and innovative technology.
Elegant design and architecture
Service life up to 5 years
Sustainable, comfortable and safe
Do you have any questions about PROGRESS, or do you need more information?
We look forward to working with you.
Product profile: PROGRESS
The name of the line, PROGRESS, says it all. At ALGECO we think ahead, and PROGRESS provides a new dimensions in rental. As with conventional buildings, owners and architects can realise their wishes while maintaining maximum flexibility of use.
Our premium rental system offers innovative technologies, as well as high fire requirements and thermal standards. PROGRESS buildings fully meet legal requirements for energy efficiency, and they are energy-efficient compared to other rental systems. The buildings are built in a very short time.
Implement your plans with PROGRESS and experience a new dimension of modular construction.
Areas of use
Offices and administration
Kindergartens and schools
Residential and care homes
Events, fairs and exhibitions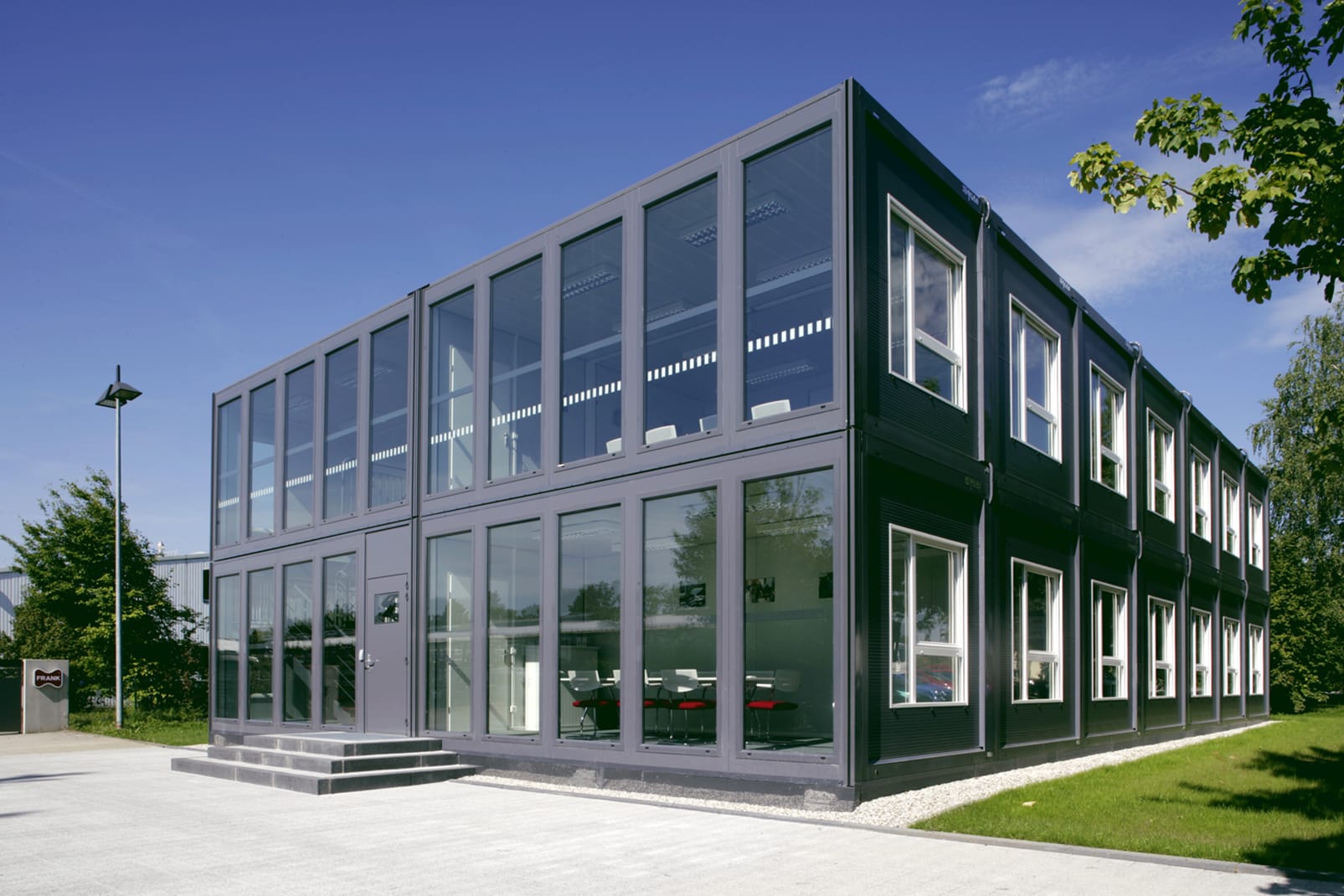 Design
Elegance: dark grey window facade, modern contrast with white window elements. For buildings with style and character.
Discreteness: the frame structure on the longitudinal wall is concealed, the inner connectors are not offset, and ceiling lights are partially integrated. These are small but important differences.
Intelligent solution: integrated cable and line routing. For concealed installation of electricity, networks, telephone, water and sewage.
High quality: aluminum glass double leaf doors, glass awnings, stainless steel small kitchens and first-class rental furniture. Additional equipment from our 360° SERVICE ..
Comfort
Generosity: 2.75 m internal height and 3.0 m width. For freedom and spaciousness.
Pleasant environment: elegant white interior design, imitation ash door with stainless steel handles, laminate and individual material flooring. To make sure you feel good.
Flooded with light: generous window elements, naturally with electric external blinds for shading. For optimal light conditions.
Acoustics and sound insulation: microperforated ceiling tiles with 20 mm acoustic insulation in the ceiling, high-density plasterboard in the floor, sound insulation between rooms with a double wall. For pleasant room acoustics.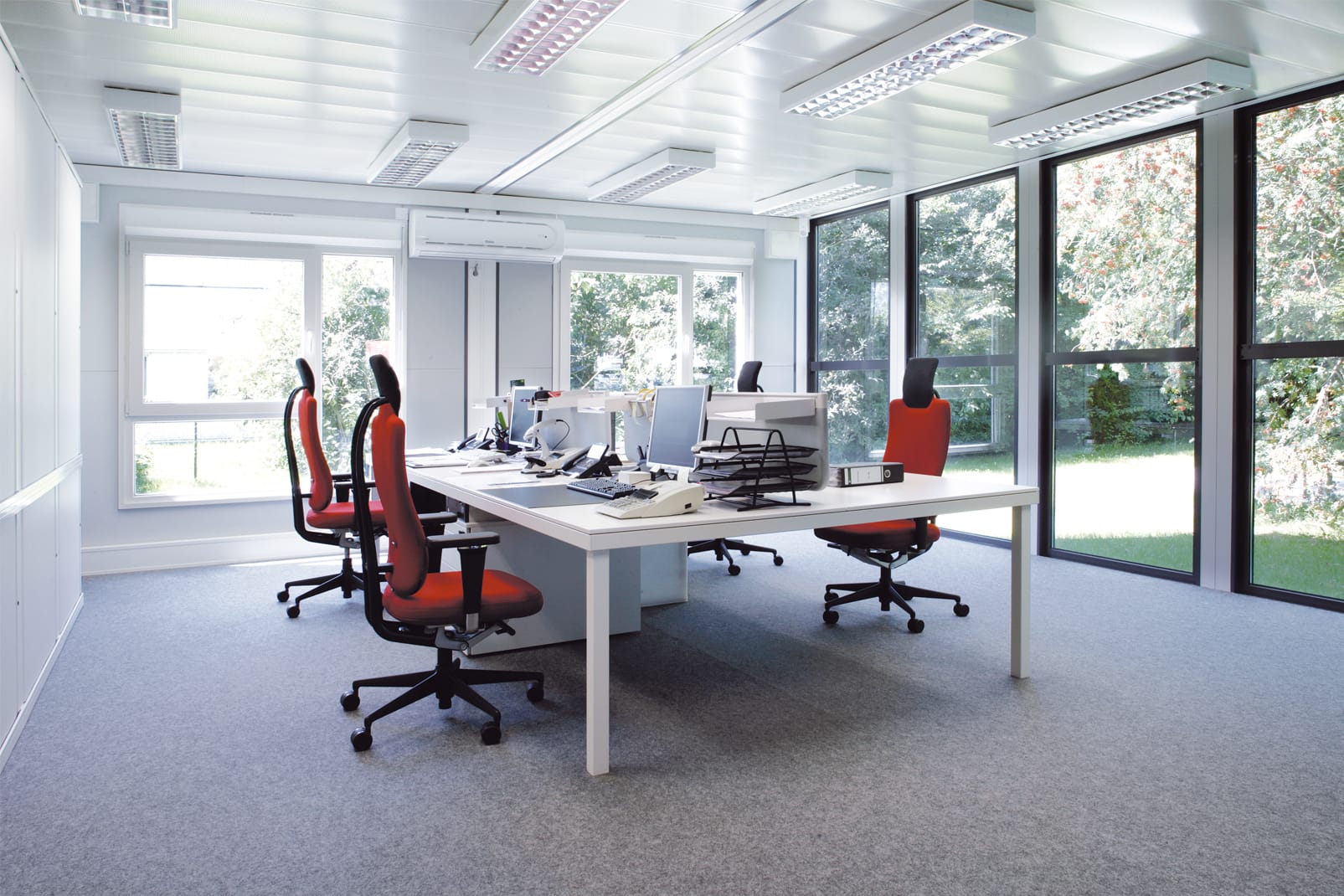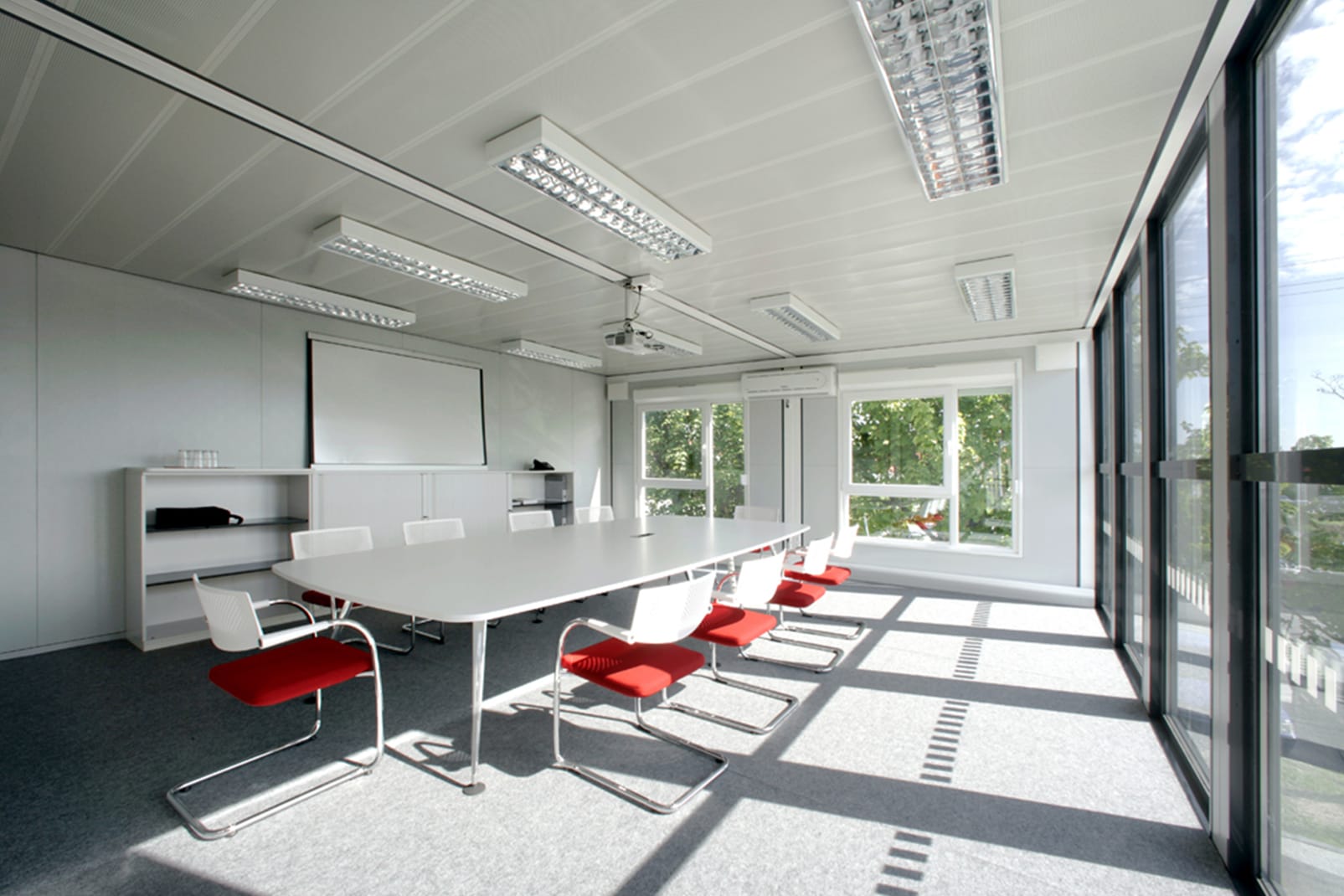 Safety
Fire protection: high fire resistance of components, non-flammable and almost emission-free materials (steel, mineral wool, floorboard), sheet metal sandwich wall panels with mineral wool and wooden reinforcement inside. For maximum protection in the case of emergency.
Low-emission building materials: for a healthy indoor climate.
Fall protection system: for safe installation work on the roof.
If needed: floorboard designed for regular, long-term loading, with the possibility of a high point load.
Sustainability
Thermal insulation: according to GEG for temporary buildings with a service life of 24 months to five years.
U (W/m2K) values:
Roof: 0.19 (standard 0.2)
Long wall: 0.20 (standard 0.24)
Front wall: 0.22 (standard 0.24)
Front wall: 0.22 (standard 0.24)
Economical: sanitary facilities with electric hand dryers.
Simple: air conditioning units and thermostats are installed using pre-installed technology.