Smart temporary solutions for missing space
Stackable, safe and mobile
Storage space for rent or sale
Storage containers from ALGECO offer quick temporary solutions for missing space. We can create a secure, mobile warehouse for you according to your needs - in the place you need it, for as long as you need it. ALGECO STORAGE containers can be stacked several times to adapt to changing cargo and goods volumes.
With the large volume storage container STORAGE, you can combine warehouse and office space. At your request, ALGECO can turn a storage container into a practical, complete solution for mobile use with high racks, a safety lock and electrical wiring.
You can rent or buy storage containers from ALGECO. With our biggest vehicle fleet in Europe, we can implement the required solutions anywhere in a very short period of time.
Store your goods in a safe, mobile way - areas of use:
Mobile storage containers from ALGECO are perfect for safe storage of materials and equipment. The robust containers can also be used as a mobile workshop. High quality of design and equipment. Fast delivery and flexibility.
Construction
Workshops
Agriculture
Industry
Power stations
Refineries
Safety services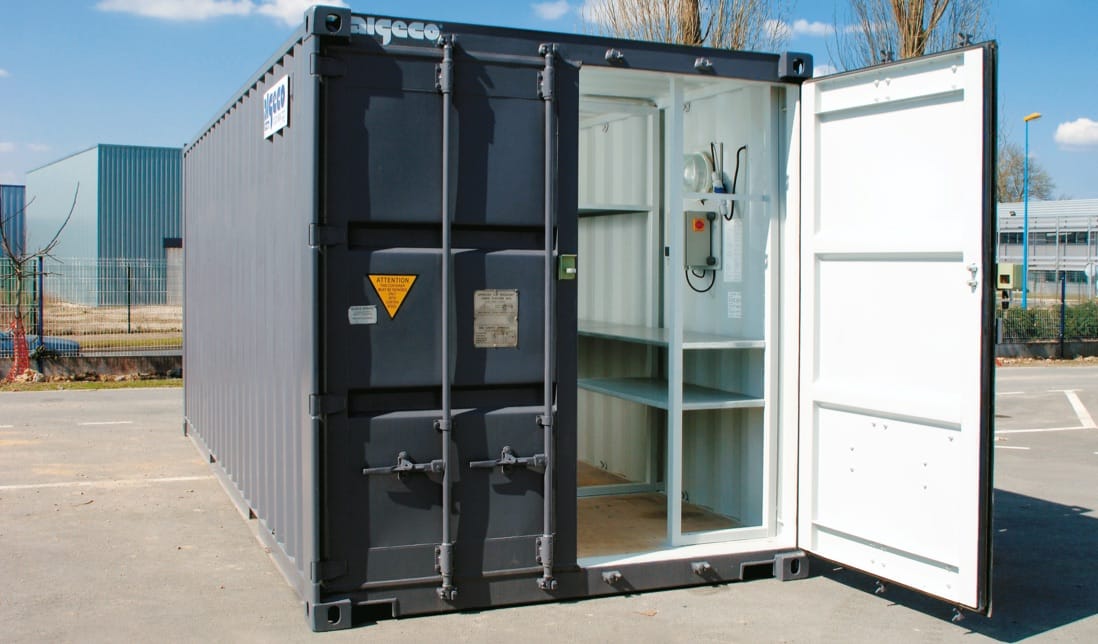 Safety for storage containers
With ALGECO you can store your goods safely, cleanly and in a dry place either temporarily or long-term. With its 360 ° SERVICE, ALGECO offers optional services such as insurance, fire protection and special safety technologies.
For more information on the protection and safety of storage containers, visit
Storage container: dimensions and weight
Our storage containers will convince you with their high quality in various sizes. Double-leaf doors allow practical loading and unloading.
Storage container

20 foot sea container
Outer dimensions:
L 6.058 x W 2.438 mm, usable area ~ 15 m2
Inner height :
2.392 mm
Outer height :
2.591 mm
Storage container

10 foot sea container
Outer dimensions:
L 3.000 x W 2.438 mm, usable area ~ 7,5 m2
Inner height :
2.392 mm
Outer height :
2.591 mm