High comfort and a pleasant environment.
Attractive design, high standards of fire protection, high efficiency of thermal insulation.
ADVANCE IN Plus & ADVANCE PLUS: greater comfort and safety
With our ADVANCE IN Plus and ADVANCE PLUS series, we set new standards for temporary buildings: their attractive design and smart technologies create a pleasant, safe space.
Energy efficient thanks to thermal insulation according to GEG
High fire and safety standards
Pleasant working environment
Would you like to know more about our ADVANCE IN and ADVANCE PLUS series?
We look forward to hearing from you. We'll get back to you right away.
ADVANCE IN Plus - comfort and safety at an affordable price
The ADVANCE IN Plus series is attractive from the outside, and its spaciousness is striking at first glance. It also provides a large space for your work. High standards, e.g. B in fire protection, ensure a safe and comfortable atmosphere.
Areas of use
The ADVANCE IN Plus series is a new standard in room design. The energy efficient modules have a service life of up to 24 months.
Offices and administration
Kindergartens and schools
Events, fairs and exhibitions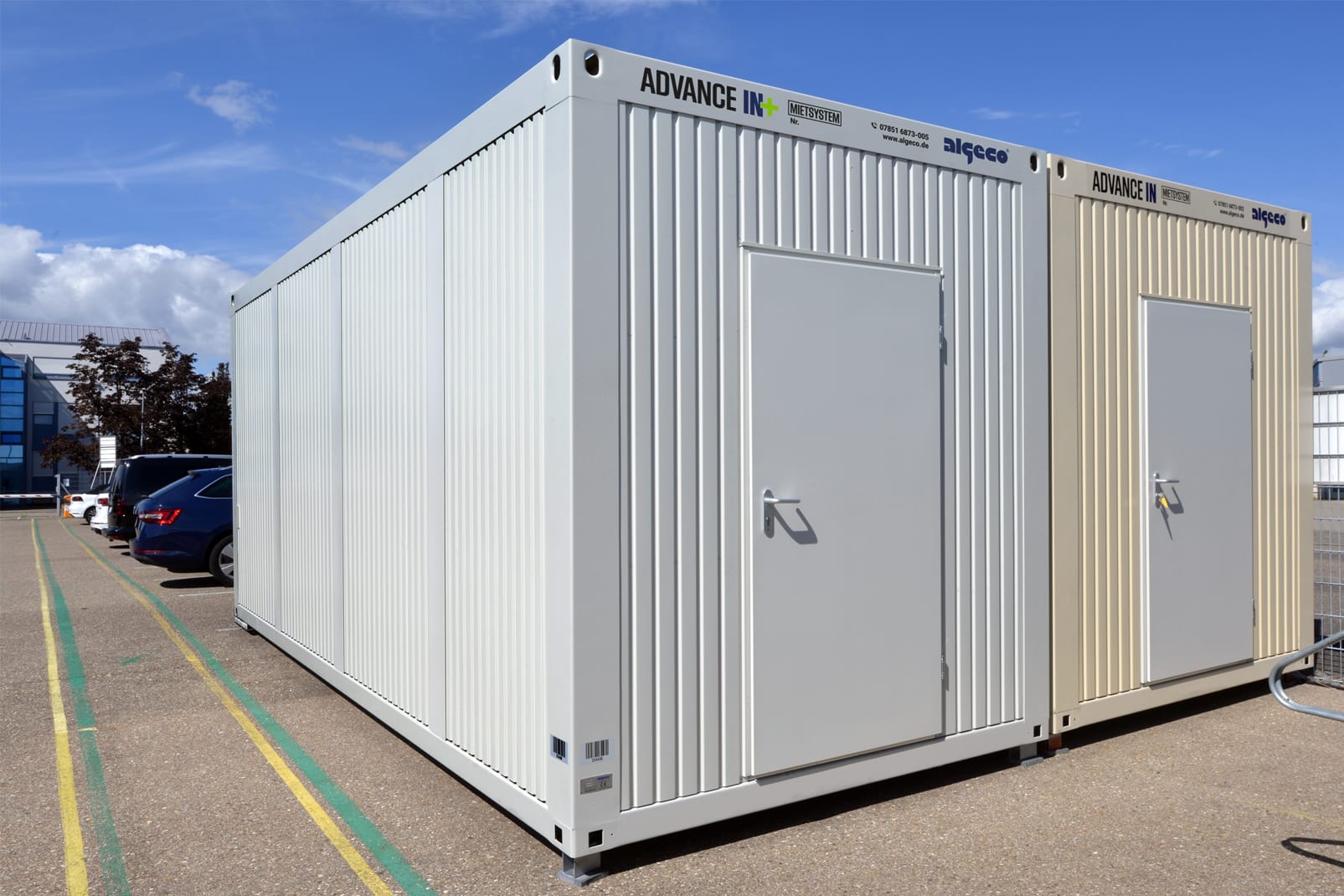 Design and comfort
Buildings in the ADVANCE IN Plus series make a good impression on the inside and the outside.
They have a modern appearance thanks to grey outer facades and large windows.
Pleasant workspace thanks to bright rooms with decorative floors made of dark wood and white room doors with stainless steel hardware.
Sanitary version with hidden pipes
Other high-quality details can be provided on request: double-leaf front door, small stainless steel kitchen, or first-class rental furniture.
Protection and safety
Safety and fire protection are the highest priority in ADVANCE IN Plus. All windows are designed as escape route windows as standard and are fitted with laminated safety glass. A ≥ 30 minute fire resistance is standard for load-bearing components as well as walls and ceilings of corridor and staircase modules.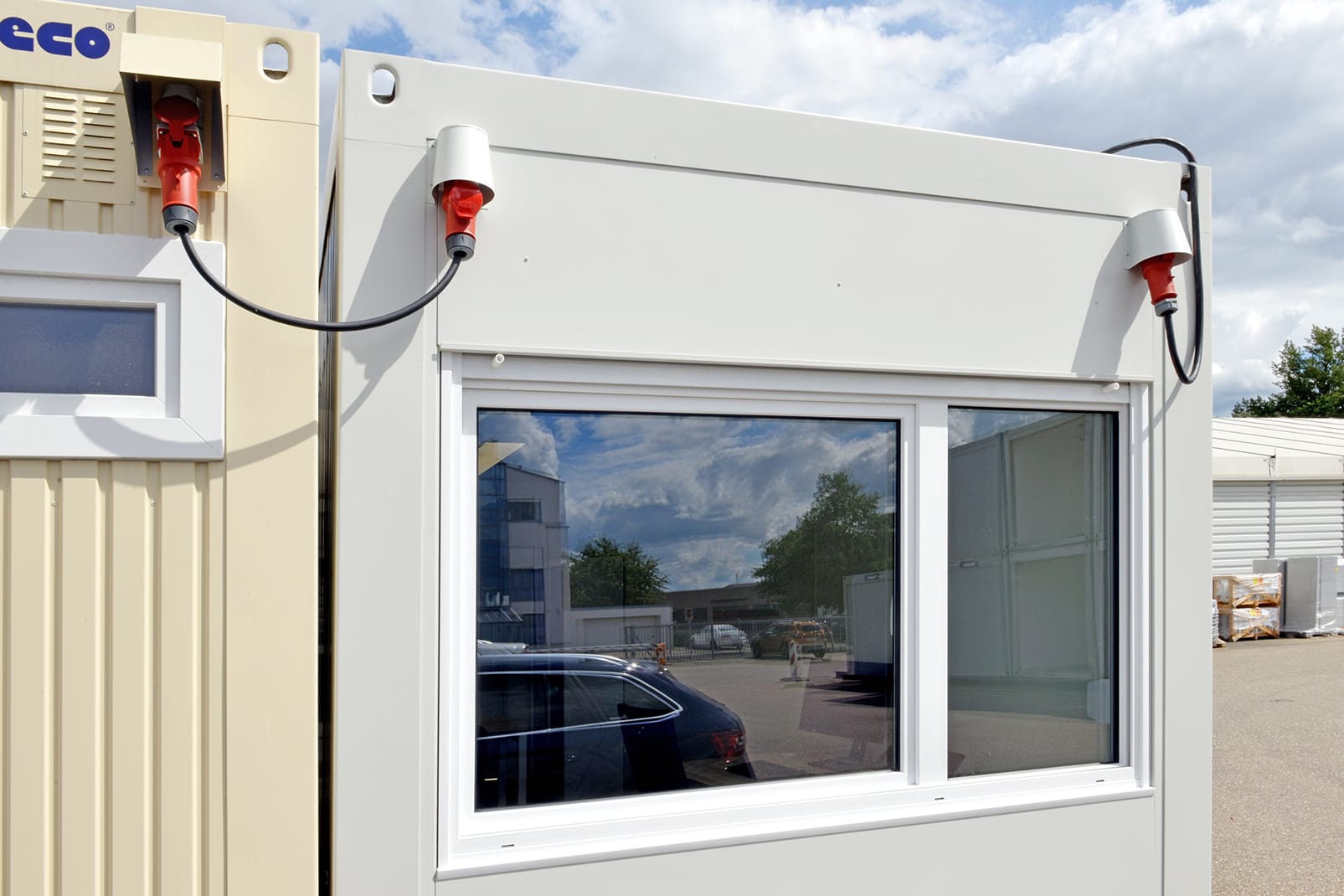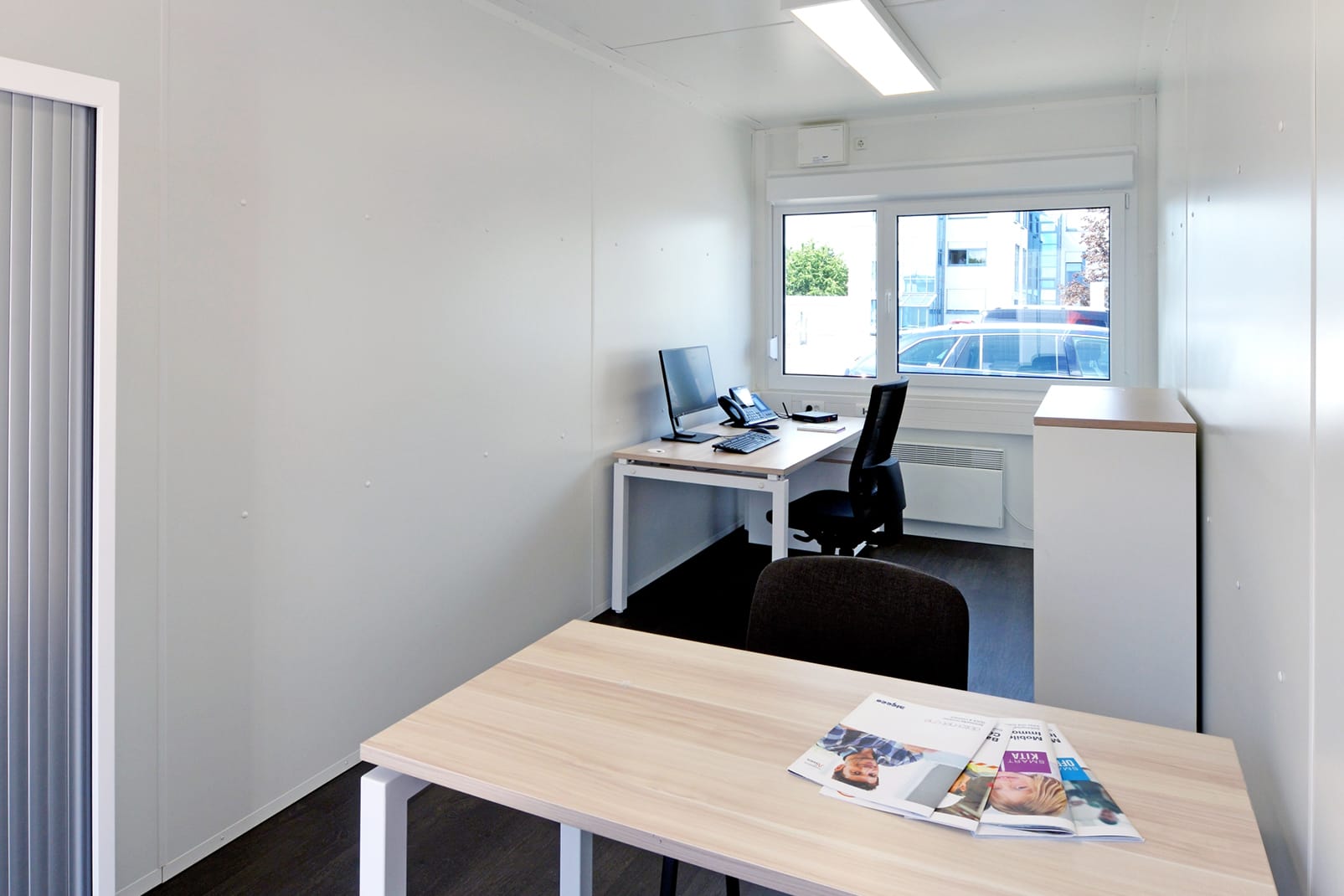 Energy and technology
Modular rental assemblies from the ADVANCE IN Plus series have energy-saving LED lights; they are very energy efficient and are suitable for up to 24-month rental.
With ADVANCE IN Plus you have all the possibilities of designing your rental building according to your liking. By cleverly combining and creatively assembling units, you can create impressive structures that have character. The ALGECO 360° SERVICE also offers a wide range of services from A for external facades, to Z for central building management. We will be happy to advise you personally.

ADVANCE PLUS - maximum comfort, sustainability and safety
Rooms flooded with light, high-quality details and innovative technologies ensure a pleasant work atmosphere. We can create attractive rooms in a very short time - with added security and sustainability:
The smooth facades give the building an airiness, evoking a pleasant, bright feeling.
The electric outdoor blinds are practical and elegant.
Corridors, staircases and rooms are spacious and bright.
The white interior, elegant imitation ash doors, stainless steel handles and imitation wood floor evoke a modern elegance. Intelligent pre-wall systems - in the office area with integrated cable ducts, and in the sanitary area for laying supply and waste water systems - are proof of high quality.
Areas of use
The use of our temporary buildings is virtually unlimited. ADVANCE PLUS from ALGECO is suitable when attractive rooms, safety and sustainability are what you want.
Offices and administration
Kindergartens and schools
Residential and care houses
Events, fairs and exhibitions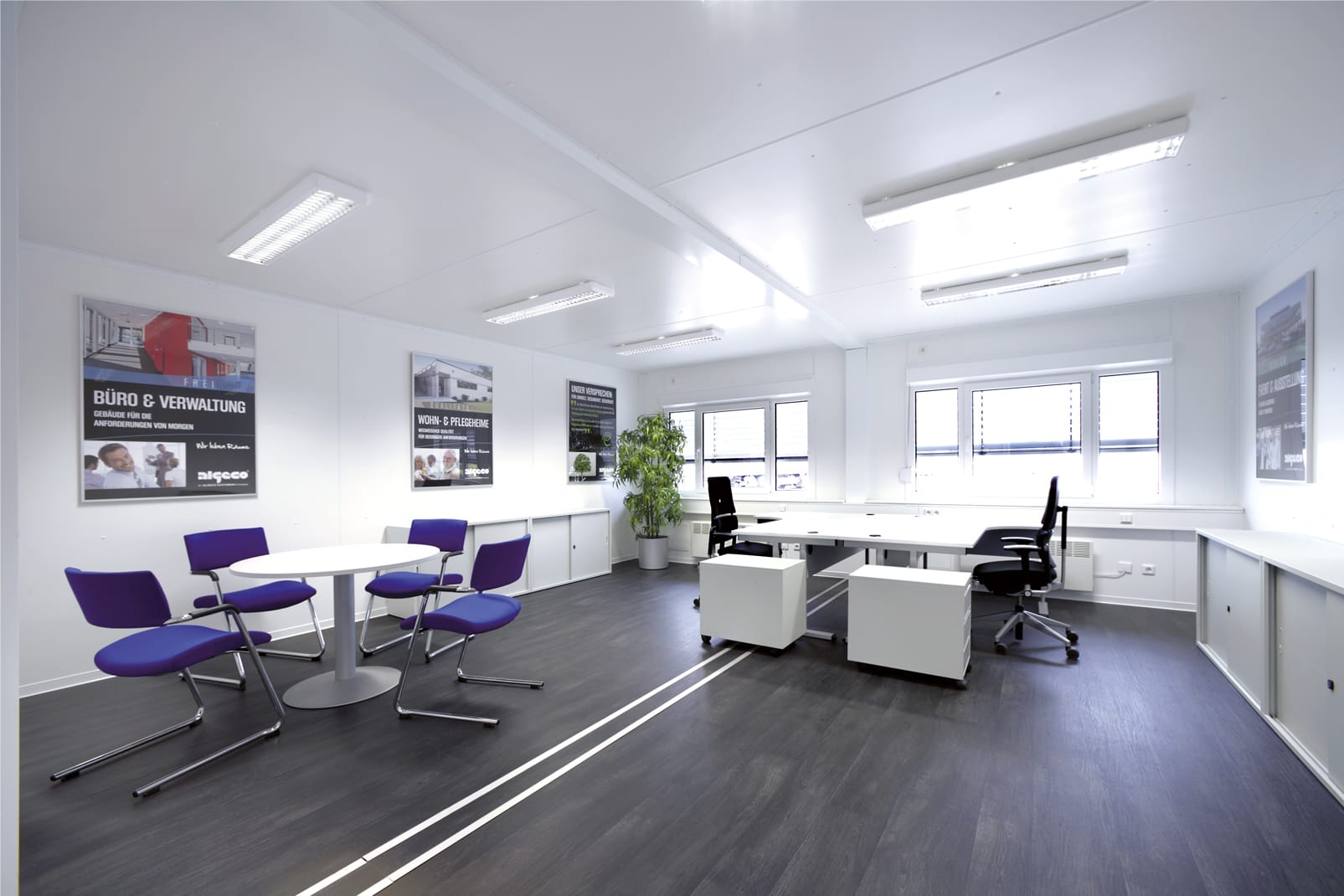 Design and equipment
ADVANCE PLUS combines elegant design with modern technology. You get a very pleasant atmosphere that makes you forget it's just a temporary solution.
Temporary buildings from the ADVANCE PLUS Comfort series offer individual combination options for all modules, as well as external and internal staircases, front windows and colour selection. The ALGECO 360° SERVICE also offers a wide range of design options perfectly adapted to your taste - from building design to interior design and equipment. Your contact person will work with you to optimize your personal space solution - for rent or purchase - according to your needs.
Fire protection
ADVANCE PLUS buildings meet the highest safety requirements. The central theme is fire protection: load-bearing components withstand fire for over 30 minutes, while the walls and ceilings of corridor and staircase modules meet the requirements of fire resistance class F30AB as standard.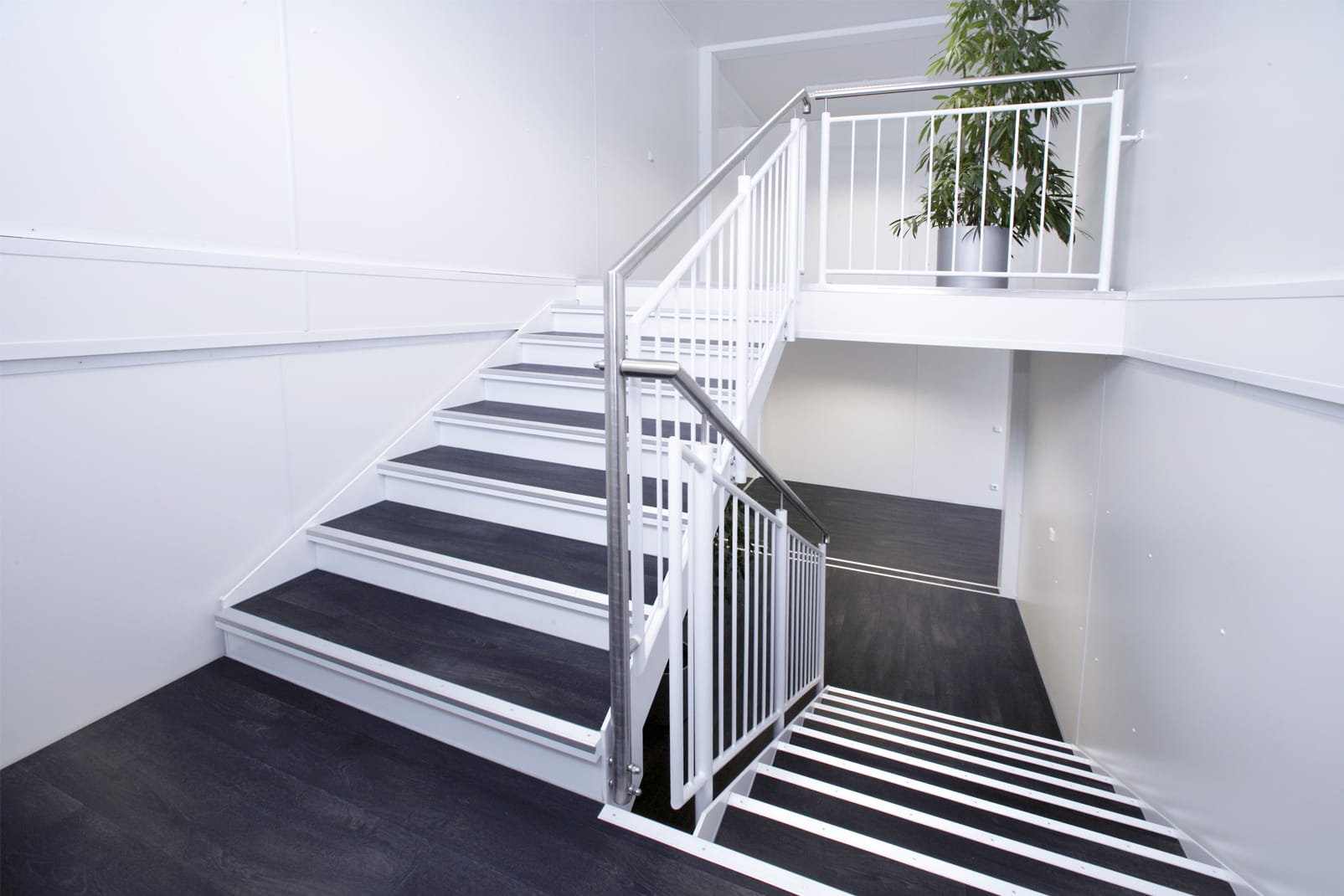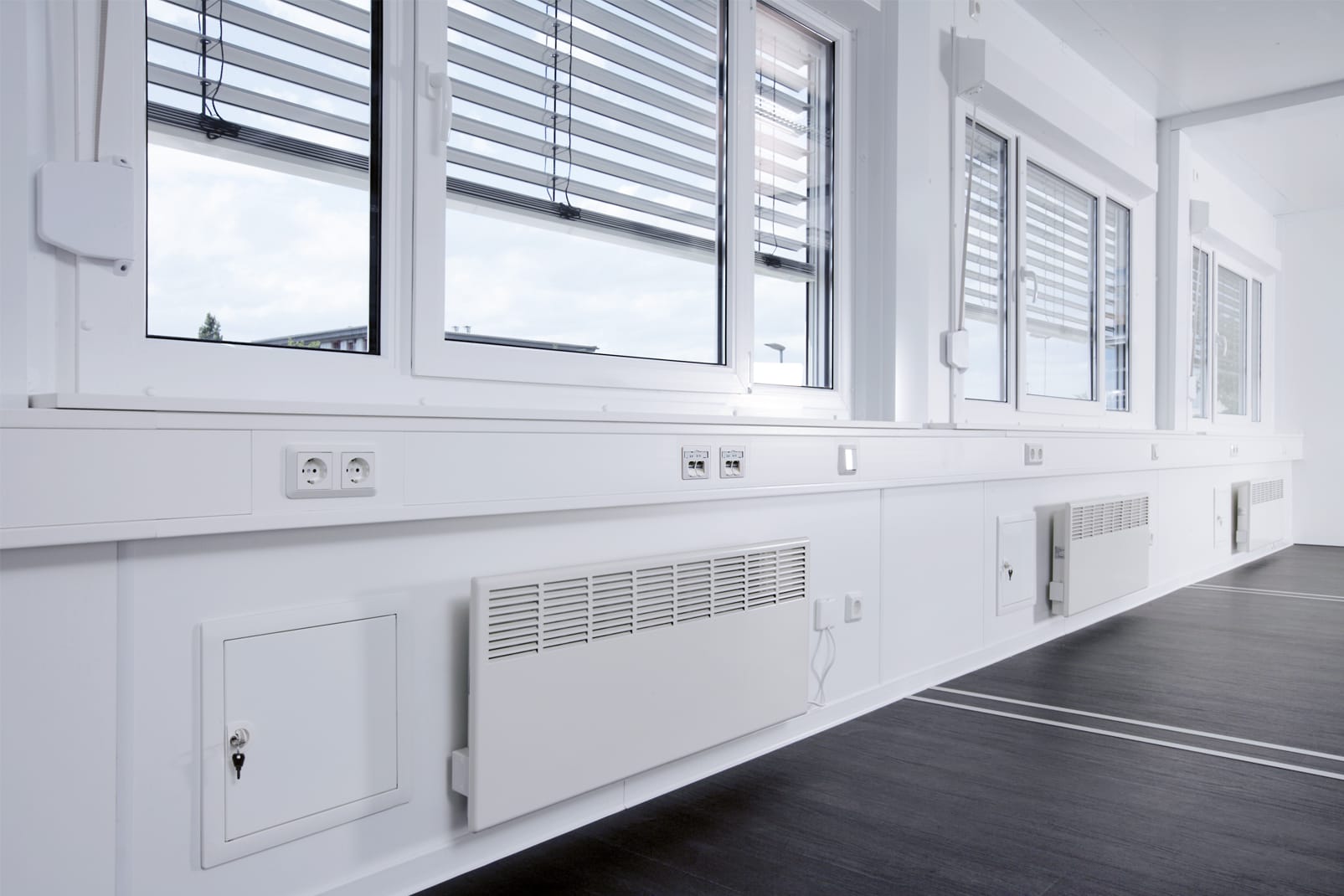 Sustainability
Our comfortable product - now even more energy-efficient! With thermal protection according to GEG in operation for up to 5 years!
Thanks to the energy-saving design, you will be both ecological and economical. We support you in this: ADVANCE PLUS buildings meet the high requirements for sustainable construction, and they have been awarded the German TÜV mark for healthier buildings. Even their standard version is equipped with basic elements that save energy and water. ALGECO also offers a catalog of other energy and water saving options. With ADVANCE PLUS, ALGECO guarantees its clients speed, comprehensive services and completely carefree project implementation thanks to our 360° SERVICE.