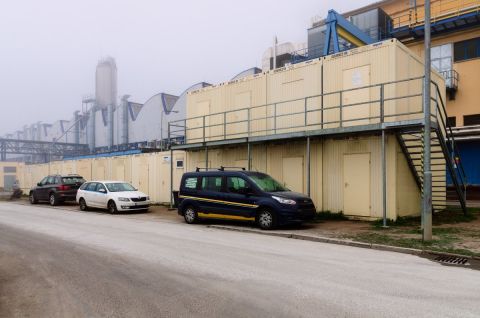 | | | |
| --- | --- | --- |
| Date |   | 2017 |
| Region |   | Štětí - Ústecký kraj |
| Customer sector |   | Production |
| Purpose of use |   | Offices for project management, locker rooms for assembly workers, canteens, kitchens, sanitary facilities – showers, toilets |
| Facilities |   | Residential containers, corridor and sanitary containers |
| Type of project |   | Lease |
| Number of modules/m2 |   | 183/2745 |
In 2017, the company decided to launch a planned project which is supposed to completely modernize its whole operation. The project should be completed in two stages and it is expected to be finished in 2027. The aim of this project is to increase the production of cellulose and paper and to lower the production costs and the impact on the environment.
Because of a significant increase in the number of workers, ALGECO containers are an important part of the project. Tens of managers and hundreds of assembly workers have complex facilities thanks to our modular solutions – from the offices for management to meeting rooms, canteens and kitchens, locker rooms for assembly workers and special smoking containers. Our complex solution also includes special facilities – sanitary containers with showers and toilets. Containers are fully equipped according to their purposes – all containers are equipped with the necessary furniture. Air conditioning and full IT connectivity for offices, projectors and screens for meeting rooms. Everything is included in our quality versatile service and we also provide cleaning services.