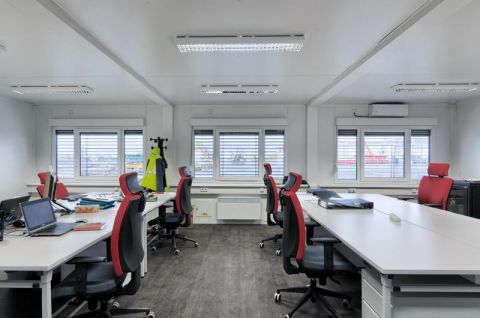 Date
 
11/2017
Region
 
 
Mubea Prostějov Dolní 3137/100
Customer sector
 
Building industry
Purpose of use
 

Offices for the management of the construction site

Facilities
 

Residential and sanitary containers

Type of project
 
Lease
Number of modules/m2
 
14/252
Modular buildings are used as offices and a meeting room for the management of the construction site. The customer needed reliable facilities for negotiations with subsuppliers, therefore he picked our new product ADVANCE PLUS. A separate kitchen and a separate container is a part of the assembly. The assembly is air conditioned and delivered with furniture, a screen and flagpoles.  Before the entrance, there is a landing and a roof. There is a cleaning zone in the corridor. The assembly is delivered with a central switchboard.