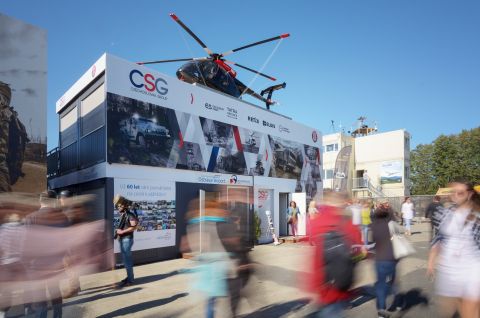 | | | |
| --- | --- | --- |
| The name of the event: |   | The facilities for partners and organizers of the NATO Days in Ostrava & Czech Air Force Days |
| Region: |   | Leoš Janáček Airport – Ostrava Mošnov |
| Date: |   | September 2019 |
| Customer sector: |   | Event |
| Purpose of use: |   | Office buildings, the facilities for meetings, VIP zones, gateways and others |
| Equipment:       |   | Residential and sanitary containers |
| Type of project: |   | Lease |
| Number of modules, area (m2):  |   | 96, 1650 |
Residential containers in ALGECO EVENT version were used as the facilities for organizers, partners and guests of the event. Modular assemblies served as office space for the main organizational team, meeting places for VIP zones, the facilities for pilots and television crews. Buildings set up from the residential and sanitary containers created a heliport for a smaller helicopter and also observation decks or the positions for TV cameras televising the event. The buildings from ALGECO containers were fully air-conditioned and had plumbing installations and they were connected through pumps with water tanks. The selected modules were equipped with wheelchair ramps for the entry of disabled visitors or with French windows. Various types of flooring including carpets were installed according to the instructions. Thanks to ALGECO SERVICE 360°, the interiors were equipped with kitchen utensils, furniture, tables, chairs, information desks and TVs according to the wish of the organizing company.