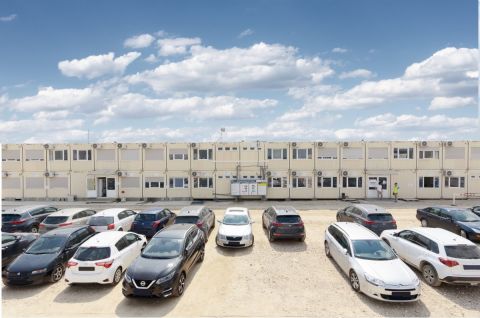 | | | |
| --- | --- | --- |
| Name of order |   | office building for HYUNDAI ENGINEERING CO., LTD. - Hungary |
| Region |   | Ipari park Komárom - Hungary |
| Date of implementation |   | April 2019 |
| Customer sector |   | Automotive industry |
| Purpose of use |   | Office building |
| Equipment |   | Residential, corridor, storage and sanitary containers |
| Type of project |   | lease |
| Number of modules, area (m2) |   | 201 pcs, 2850 m2 |
ALGECO containers were used for the construction and implementation of a two-storey building for HYUNDAI ENGINEERING CO., LTD. and their partner. This project was created as a makeshift workplace with the possibility of later expansion. In the first phase the building consisted of 75 containers. The investor requested a workplace for a total of 100 people, including the complete supply of furniture and 360° service. Desks, mobile under desk containers, chairs and more were supplied. At the request of the investor, chairs with headrests were supplied as a special requirement. These chairs are to allow workers to rest between 12:00 p.m. and 1:00 p.m. The building includes complete computer cabling for the connection of individual workplaces, network printers and wifi modules. There is also a kitchen and dining room with amenities and furniture, including electrical appliances. All buildings are cooled with VIVAX split air conditioners, which are used as a heat pump to heat the building in the winter. The windows have integrated outdoor blinds for sunlight regulation. The ALGECO containers are connected by an indoor staircase, and they also have an outdoor escape staircase. Thanks to a special container with a domestic water tank, the building has completely independent water supply if necessary. Due to the absence of sewerage, underground waste pits with a total volume of 70m3 were installed at the site of the building. To increase worker safety, the project also includes lightning conductors, escape lights, fire extinguishers and outdoor LED reflector lighting.